Rubber Products Distributors – Accurate Products
Our History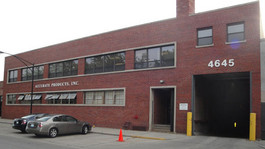 Accurate Products started more than 65 years ago as a rubber products manufacturer, serving both the industrial distribution business as well as O.E.M. markets. In the early '70's Accurate Products expanded its rubber molding operations to provide custom rubber molding to its O.E.M.s. The larger industries served are Agricultural, Manufacturing and Automotive. Accurate is Tier 1 when it comes to automotive rubber molding and rubber molding for industrial distribution companies, rail and transportation industry, and heating and plumbing industry.
In the late '80's Accurate moved its rubber molding operations to Southeast Asia. Accurate currently maintains its partnership relations with industrial rubber products manufacturers in China, Taiwan and Korea, shipping 5-6 containers a month in Chicago. Accurate has a 25,000 square foot warehouse where packages are broken down, privately labeled, bar coded and shipped to customers. Additionally, Accurate can provide assembly work as well as Inventory Management programs. Reverse Engineering capabilities are also available.
Accurate is both ISO certified in the United States and TS certified in China, allowing our customers to feel comfortable with processes and procedures and assuring our customers of high quality industrial molded rubber products.
Additionally, in Chicago, Accurate rubber molding company maintains a Die Cutting operation. High speed machines allow for competitive pricing with fast turnaround.
Standard materials used in both Die Cutting and Rubber Molding services include:
Neoprene Rubber Molding
EPDM Rubber Molding
SBR Rubber Molding
Buna-N Rubber Molding
Natural Rubber Molding
Viton Rubber Molding
Silicone Rubber Molding
Accurate has also added Plastic Injection Molding over the past few years to allow our customers one stop shopping.
Our Goal & Mission
Accurate Products quite simply wants to be the premier manufacturer and distributor of standard and custom molded rubber parts. Our objective is to outperform our clients' expectations in terms of customer service, delivery, quality and pricing. The company intent is to work with its customers to grow long term and profitable partnerships, so contact us today about any of our products or to find out how we can help you achieve your goals. Call us or fill out our contact form.